Small Town Girl Gets Bigger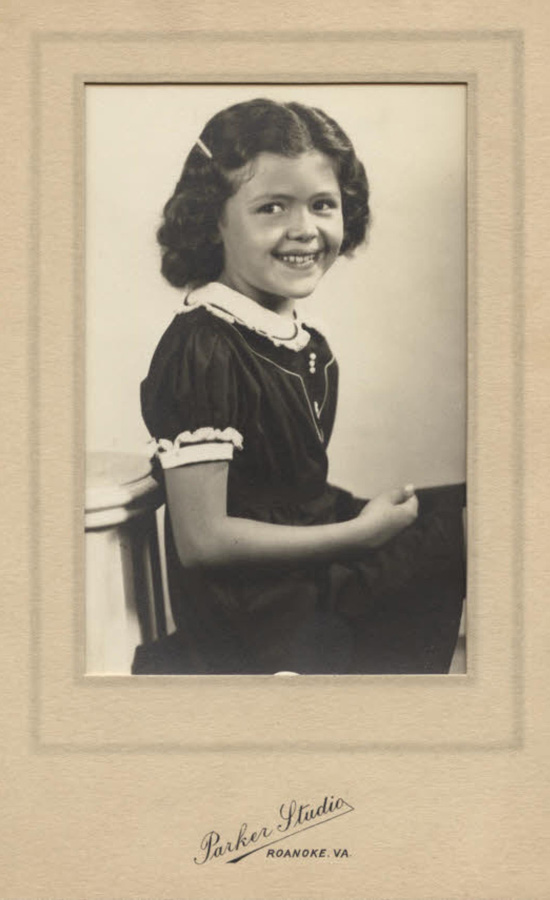 Mine was the childhood of the penny postcard and the ten-cent movie, for I was born in the middle of southwestern Virginia's Appalachian Mountains just before Franklin D. Roosevelt became president. My Protestant Anglo-German family brought me up there in a town that had been given its latitude and longitude by a young surveyor named George Washington. We were salt-of-the-earth people, believing in the Threefold God and in the everlasting virtues of hard work, a clean house, and strong drink.
Until 1970 I spent my life in academia, either as a student or teaching speech and drama at Christian colleges and state universities in the Midwest and in Texas. Then, when San Francisco State University tenured me as an open lesbian, I spent the next two decades not only in the classroom but in the streets, fighting for progressive causes and writing articles and stories that reflected only a few – but, to be fair, certainly some – of the values that had been such a formidable part of my upbringing and early professional years.

My life continues to be exceedingly rich, and I daily grow more appreciative of every turn it is taking. I've been particularly grateful over the years to my students and colleagues for all they have taught me, and to my good friends, both animal and human, who have kept me close to their hearts – and to my own. I'm proud of helping to design and implement one of the four radical Women Studies Programs in the country at San Francisco State University, and of the political work I've done on behalf of non-human animals. I'm proud of helping to plant seven thousand trees on a bare hill in Nicaragua for the Sandinista Revolution. I'm proud to have been a part of the movement that secured greater visibility for society's lesbian, gay, bisexual, and transgendered people. More and more frequently I bless the people that others have called my "enemy" or "unacceptable" or "crazy," for it is the presence of such people in my life that has whetted my hunger for diversity and led me to the knowledge that, in the end as in the beginning, Love is the universal truth lying at the heart of all creation. top
~Sally Miller Gearhart
Sally's Biography
Sally Miller Gearhart was born in Pearisburg, a tiny rural town in Virginia, on 15 April 1931. The world changed.
Sally is the daughter of a dentist and a secretary who divorced in her childhood (at a time when this was still scandalous) and was raised largely by her maternal grandmother, the residents of her grandmother's boarding house, and the beautifully brown Katharine Summers in an atmosphere of sheer spunk. Afternoons easing into evenings of camaraderie between her grandmother and her grandmother's friends taught her early to expect and trust the collective strength of women. From them, she learned that women "are the source of power, the heart of action, and the focal point of love." Amongst the experiences which shaped her childhood, she remembers afternoons in her grandmother's cinema and Easter egg hunts at the White House, particularly her first sight of Eleanor Roosevelt in jodphurs and the thrill of sitting on that woman's lap. top
Sweet Briar College provided the environment in which Sally discovered her love of learning and of women, the foundations of what would become her academic, literary, and political force. After earning a B.A. in drama and English, she went on to earn an M.A. in theater and public address at Bowling Green State University and a Ph.D. in theater at the University of Illinois. She taught at Stephen F. Austin State University in Nacogdoches, Texas and then at Texas Lutheran College in Seguin, living a deeply closeted life, subject to attempts at blackmail and outing, documented by young playwrights in Prop 8 Love Stories. For ten years, she taught passionately, judged beauty contests, and publicly denied the reality of her personal life and convictions.
Sally left Texas for Kansas in 1969 to follow a lover. Her instincts, a period of study, introspection, and epiphany, and the voice of the times led her to move to San Francisco with a commitment to earn a living driving cabs if necessary in order to be open in her identity as a lesbian. Fortunately for thousands of students, she was hired by San Francisco State University, where she became the first open lesbian to be granted tenure at a major university in the United States—perhaps, indeed, in the world. There, she played a major role in developing one of the first women and gender studies programs in the nation, and the university was the first to develop a course dealing with sex roles and communications under her leadership.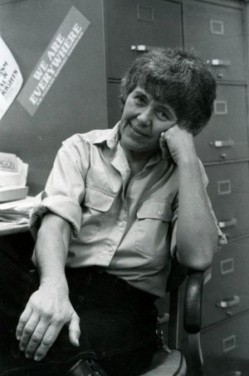 In San Francisco, Sally developed as a writer and political activist. She co-authored Loving Women/Loving Men: Gay Liberation and the Church (1974), channeled The Feminist Tarot (1975), and wrote one of the watershed works of lesbian fiction in the 20th century, The Wanderground, Stories of the Hill Women (1978). She was Harvey Milk's debate partner, working with him to defeat Proposition Six, the Briggs Initiative that would have banned lesbian and gay teachers and topics in California's schools. She appeared in her first film, the now-classic Word Is Out (1978) which, with a companion text. documented the diverse experiences of gay men and lesbians in the United States. top
Through the next decades, Sally continued to work passionately for the rights of gay, lesbian, bisexual, and transgendered people, non-human animals, and the environment. She found herself increasingly drawn to a piece of land north of Willits which held just a bit more wildness than she already possessed and allowed her to build a cabin in which she could write, meditate, kick-box, practice yoga, read science fiction and poetry, and welcome both animal and human companions. She was interviewed in The Times of Harvey Milk, (1984) and Framing Lesbian Fashion (1992). She began work on a series of books, the Earthkeep/Little Blue series, now available as The Kanshou (2002) and The Magister (2003). She developed personally, exploring realms of lesbian culture (what others call S and M, but she thinks of as power sex) and continuing to come to terms with humanity's exploitation of the planet. She celebrated the marriage of her friends, Del Martin and Phyllis Lyon, in the film No Secret Anymore (2003), although personally eschewing marriage as a symptom of a patriarchal society. She traveled to Nicaragua to plant trees and to Europe to find roots.
Now a professor emerita of San Francisco State, she continues to speak and write about those issues which she feels can most heal the planet and its people. She embraces challenge and thrives upon relationships with those whose opinions differ from her own, engaging them in the lively invitational rhetoric which she helped to engender (Feminist Rhetorical Theories, Karen A. and Sonja K. Foss, 1999).
Sally's personal and academic papers are entrusted to the University of Oregon, where the Sally Miller Gearhart Fund for Lesbian Studies has been established in her name as part of the Women's and Gender Studies program.
To read Sally is to be enriched; to hear her is to be enchanted; to know her is to be blessed. She daily lives and offers her mantra, that "Love is the universal truth lying at the heart of all creation." top
~Christine Cole